Hugo Broos did blow a breath of fresh air on the national team on Monday in calling new players.Georges Bokwe, Ernest Mabouka, Maxime Poundjé , Anguissa Zambo and Amadou Ibrahim.
Georges Bokwe (Coton Sport)
One of the two local players summoned by the coach of Cameroon, Georges Bokwe is a keeper of locally renowned goals recognized and proven. For two seasons, he is among the best goalkeepers in the league 1.
Ernest Mabouka (Zilina)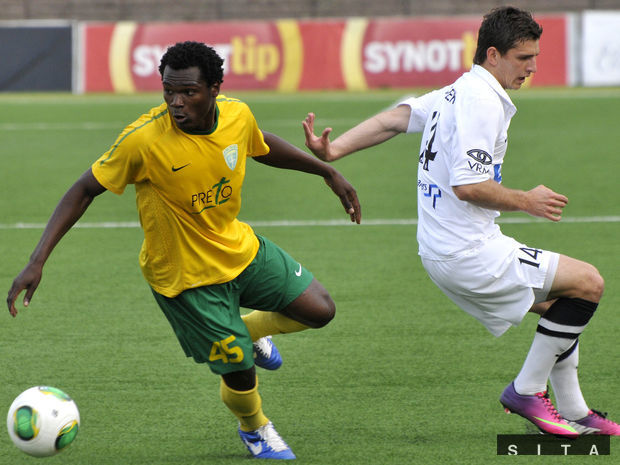 Before starting his professional career, the young right-back  did  brilliantly at Astres. It was among the Brazilians of Bépanda that he was spotted by the Žilina recruiters. Upon his arrival in Slovakia, he won and played his first match against Tatran in the second round of the quarterfinals of the 2010-11 Slovak Cup.
Maxime Poundjé (Bordeaux)
Trained in Bordeaux, the left back was on loan during the 2011-2012 season with Nimes national. He signed his first professional contract on 4 September 2012, with the Gironde club. He scored his first goal on February 1st 2015 , against Guingamp.
André Anguissa Zambo (Marseille)
After going through the Cotton sport, he left Cameroon, and moved to France and specifically Reims, where he lent a season to play with the reserve team. Despite his presence at a few games in the pro group, he did not play one minute with the first team.
He was spotted by OM after being overseen by the club for several months, and he signed the following summer to integrate with the training center initially. He traîner with the first team and was regularly called to the pro group from the beginning of the championship. He played his first professional match at a meeting of the Europa League against FC Groningen and played his first game in League 1 at the 6th  day against OL after replacing Barrada. Two weeks later, he started for the first time  against Angers.
Also read : AFCON 2017: 35 preselected by Hugo Broos
Amadou Ibrahim (Lille)
Arrived in France at the age of 4, he lived in Colombes (92) and debuted at a local club, AS Cheminots West. He then joined the Racing Club de France before joining the training center of AS Nancy-Lorraine at the age of 15. There he was formed as a central defender but could also play in midfield. 
Ibrahim Amadou played his first professional game in the 2012-2013 season with Nancy disputing a minute of play during the final day, facing the Stade Brest. In his first full season with the first team, the race of the 2014-2015 season, he was the second most used player of Nancy playing 34 games.
During the summer transfer window 2015, he joined Lille for 4 seasons and a transfer estimated at nearly £2 million. He joined the North julian jeanvier, his friend, with whom he trained. He began against the holder PSG , in central defense alongside Renato (0-1 defeat).
Comments
comments